Settings
On the settings tab you will find options and settings which apply to the app or across all projects: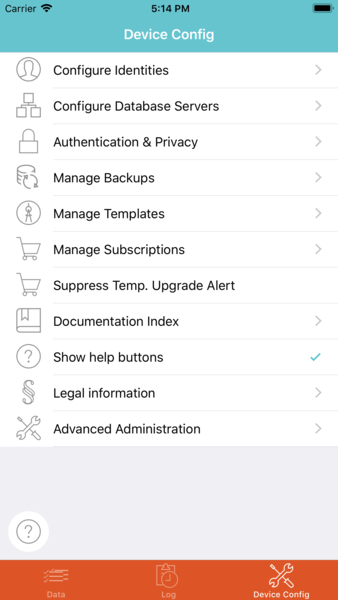 Configure identities
Here you will find a list of your configured accounts. Currently you can only create an account by using our registration service (SketShDb-ID). Normally this is done directly after the first start of the app by registering. In future, there might be more options, like authenticating with a third party account, an OpenId or within an organization via a local directory service. Then it would be possible to use different accounts for different projects.
For this reason, currently there can only be one single record in the list of accounts. By tapping on the account entry you can choose between:
Edit nicknames - With a SketShDb-ID you can use any number of nicknames for different projects. The nickname list lets you create or delete nicknames and set one nickname as your default. New projects will be using your default nickname. To register a new nickname, you need to enter your account password.
Forgot password - If you can't remember your account password (not the "PIN"!), you can set a new password by choosing this option. As you cannot authenticate with your pasword, you must confirm the account via the registered mail address again.
Re-register - This option enables you to register with a different mail address. Beware! Existing projects that make use of roles and user permission will recognize the new account as "unknown user", i.e. you must switch back to your old account to be able to confirm the new account and provide permissions or an admin role to the new account.
Servers
This list shows the configured replication servers, that can be used to share projects with other users. Each server can host multiple projects which is the reason why this option is located in the general settings. The servers list provides these options:
Add server - Tap + at the top right. A wizard-like dialog will appear that provides the different options for server configuration.
Delete server - Delete a server by swiping left over a list entry. Caution: Deleting a server also removes all replications with this server from all projects. A warning will be presented in advance, if this is the case.
Re-validate all servers - By dragging the list down and releasing, the accessibility of each server is validated. The validation state for each server is presented on the right besides the server name.
Security & Privacy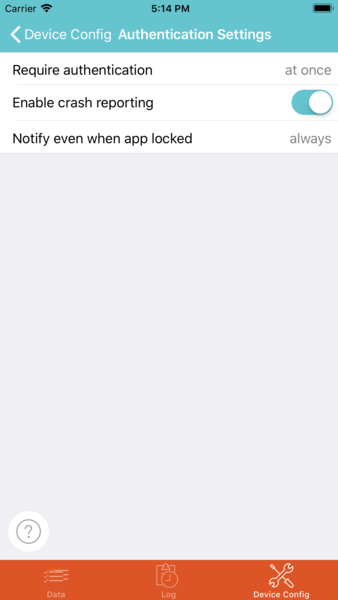 Require authentication: If you want to switch between SketShDb and other apps without needing to enter the PIN (or using TouchID/FaceID) every time, you can define how long the app may be inactive before requiring authentication again.
Send crash reports: By enabling this options you can help us improve the app by sending a crash report when the app is started after it has crashed before. Crash reports are sent using "Crashlytics"1 by Twitter. You will be asked for confirmation again in each specific case before the crash report is sent.
Backups
The backups list show all your backups stored on your iCloud Drive2, including those created on a different device (but with the same iCloud account).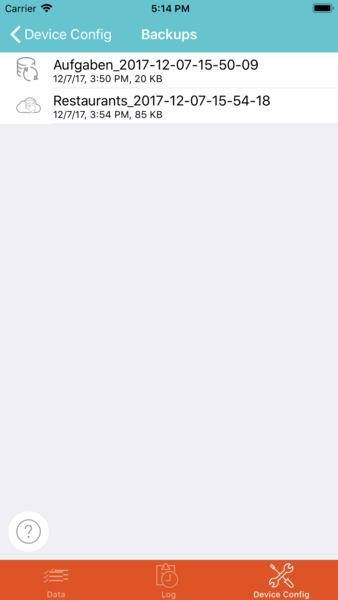 The icon shows if the backup is already downloaded to your device or if it is present just in iCloud.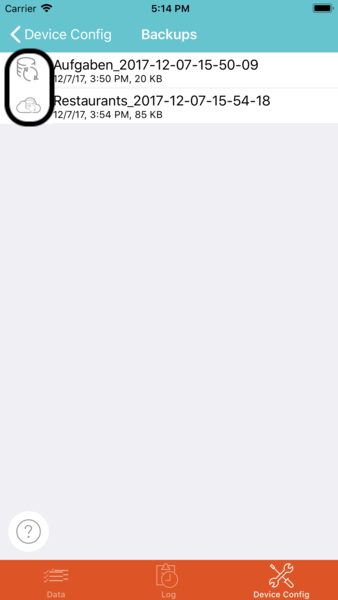 Tapping on a list entry reveals the following options:
Restore backup: Restore the backup as a new project.
Rename: Rename the backup file.
Delete: Deletes the backup from your device AND from iCloud (i.e. from ALL devices!). Backups can also be deleted by swiping left over an entry.
Download from iCloud: (Only if not present on device) Downloads the backup file to your device.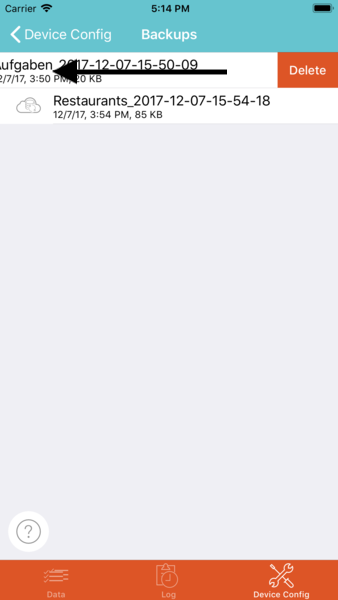 Templates
The templates list has two sections: "Your templates" showing the template files on your device or on your iCloud drive and "Public templates" showing the templates contained in SketShDb, provided by us or the SketShDb community. Your templates can be deleted or renamed, whereas public templates can neither be deleted nor edited. If you want to publish a private template to everyone using SketShDb, you can use the respective option to create an email with the template file attached. We will try your template out and add it to the public templates list.
The icon of your template shows if the template is only present just in iCloud or already present on the device.
Tapping an entry in the list show the options:
Create project: Creates a new project from this template
Download from iCloud: ("Your templates" and when not yet present on the device only) Download the template to your device.
Rename template: ("Your templates" only) Edit the template file's name.
Publish template: ("Your templates" only) Create an email to us with the template file attached. Use this if you want the template to be available to all SketShDb users.
Delete template: ("Your templates" only) Deletes the template from your device AND from iCloud (i.e. from ALL devices!). Private templates can also be deleted by swiping left over an entry.
Subscriptions
The free edition of SketShDb shows ads and is restricted to certain functionalities and a certain number of projects / types and views per project / favorites, etc. Purchase a paid subscription to upgrade or renew your subscription here. Unfold the different edition descriptions to see the differences between the options.